Overview
Home To Science in field of Healthcare
ABOUT RUSSIA –
Russia is the largest country in the world. It Occupies 17 million square kms. It covers around one eighth of the Earth's inhabited land mass and spreads across two continents (Europe and Asia).
Moscow is the capital of Russia. Within the country there are around 1,000 cities, of these, including Moscow, nine cities have a population of over a million (St. Petersburg, Volgograd, Rostov on Don, Nizhny Novgorod, Kazan, Ufa, Novosibirsk, Sverdlovsk, Chelyabinsk and Omsk).
The official state language is Russian. Popular foreign languages that are often included in the secondary school curriculum and widely studied include English, French, German, Italian and Spanish.
Russia possesses the world's largest proven reserves of natural gas and is also its largest manufacturer and exporter. As well as this, Russia shares first-second place with Saudi Arabia .
Major sectors of the Russian economy: nuclear energy, natural gas and oil export, military technical industry, metallurgy, mechanical engineering, scientific research and innovation, mining, space technologies, construction, commerce, telecommunications, transport, aeronautics and shipbuilding, food technologies, woodworking, chemical industry, agriculture and the service sector.
The population is 143 million people. Russia is a multiethnic country. Ethnic Russians comprise 80% of the country's population, but the Russian Federation is also home to more than 160 different ethnic groups like Tartars, Ukrainians, Byelorussians, Bashkirs, Jews, Mordvinians, Marl, Kazakhs and Uzbeks etc.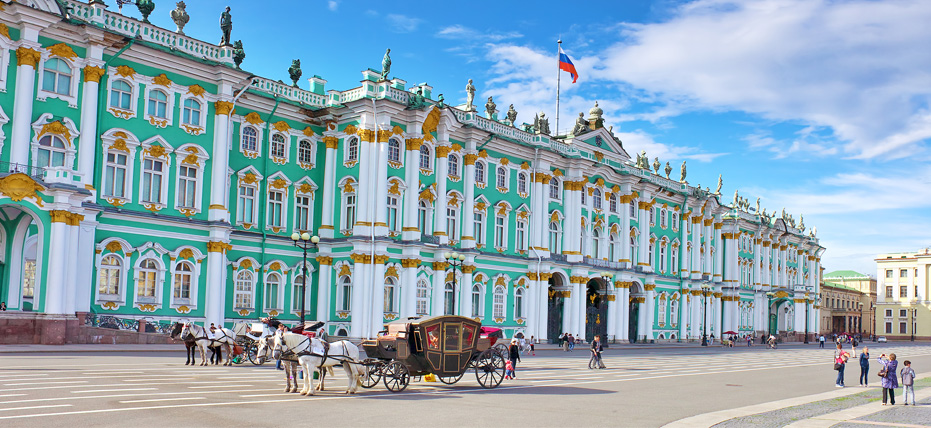 Due to its size, Russia has variable climatic conditions differing from Arctic in the northern parts to subtropical in the south. Over most of the territory, however, the mean January temperature is below Zero. Russia has a largely good network of perennial rivers. The Caspian Sea basin receives the flow from the Volga, Ural and the rivers of Dagestan. There are also some 2 million fresh and salt-water lakes, the biggest of which are the Baikal, Ladoga and Onega.
Russia today portrays an indomitable image of a modern world with mega industrial revolution and evolution; it also has dozens of nuclear, thermal and hydroelectric power stations. It is also a major engineering product manufacturer.
Since the middle of XX century Russia has been considered a sporting nation. Starting with the Helsinki Olympic Games of 1952 and going up to the present day, Soviet and later Russian athletes have always been in the top three for the number of gold medals collected at the Olympics.
The 1980 Summer Olympics were held in Moscow, while the 2014 Winter Olympics were hosted in Sochi.
Russia hosted the 2018 FIFA World Cup.
The most popular sports in Russia are: football, ice hockey, figure skating, biathlon, skiing, boxing, basketball, volleyball, handball, tennis, rhythmic gymnastics, synchronized swimming, chess, weightlifting, athletics, wrestling (Greco-Roman and freestyle), martial arts (judo, sambo) and many others.
Years of Experience in consultancy
best Russian Govt. Medical College
students sent to Russia for m.b.b.s.
Satisfied Clients from 5 Indian state
Get In Touch
Location: 113, Bricklane, Nr. Lion Circle,
Opp. Ratri Bazar,Mangal Pande Road, Kareli Bagh, 390018
Vadodara, Gujarat, India
Telephone: (+91) 97142 52950
Email: [email protected]